Feld Entertainment Kicks Off 2021 Partnership with St. Jude Children's Research Hospital
2021 Marks the Fourth Year of Partnership Between Feld Entertainment and St. Jude
Feld Entertainment is excited to continue its partnership with St. Jude Children's Research Hospital into the new year. This year will mark the fourth year our company joins St. Jude in the effort to raise awareness and combat childhood cancer.
Over the past three seasons, Monster Energy Supercross has raised more than $600,000 for St. Jude. In 2020, Monster Jam joined Supercross as a partner of St. Jude and raised over $100,000.
This year our Supercross and Monster Jam "text to donate" campaigns will have a new and exciting look.
The 'We Won't Stop' campaign will once again be a part of St. Jude's national outreach to support their mission – Finding Cures. Saving Children. Supercross will kick off the 2021 text to donate campaign at Round 3 in Houston on Saturday, January 23 that will run throughout the remainder of the season. Monster Jam will kick the campaign off in Houston the following week, Saturday, January 30.
Want this shirt?

Text to Donate Now!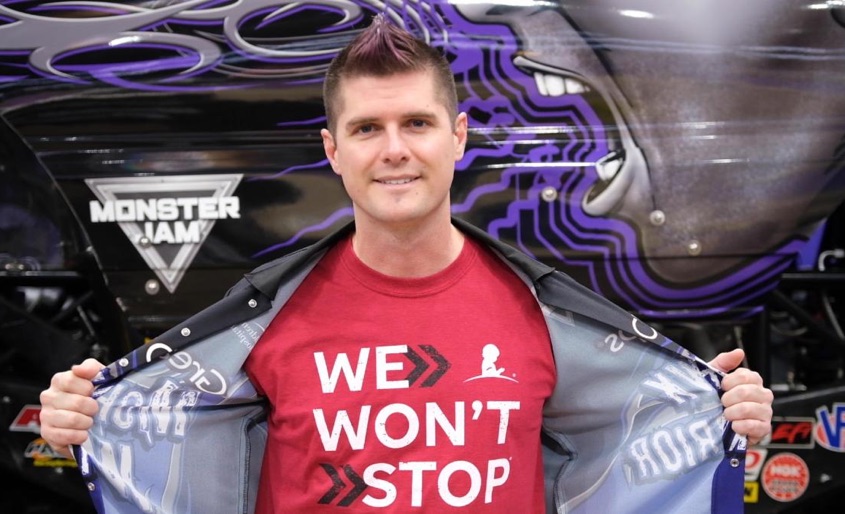 Text "MONSTER JAM" to 785-833

Text: "SUPER" to 785-833
About St. Jude Children's Research Hospital®
St. Jude Children's Research Hospital is leading the way the world understands, treats, and defeats childhood cancer and other life-threatening diseases. Its purpose is clear: Finding cures. Saving children.® It is the only National Cancer Institute-designated Comprehensive Cancer Center devoted solely to children. Treatments invented at St. Jude have helped push the overall childhood cancer survival rate from 20 percent to more than 80 percent since the hospital opened more than 50 years ago. St. Jude won't stop until no child dies from cancer. St. Jude freely shares the discoveries it makes, and every child saved at St. Jude means doctors and scientists worldwide can use that knowledge to save thousands of more children. Families never receive a bill from St. Jude for treatment, travel, housing, or food – because all a family should worry about is helping their child live. Join the St. Jude mission by visiting stjude.org, sharing stories and videos from St. Jude Inspire, liking St. Jude on Facebook, following St. Jude on Twitter and Instagram, and subscribing to its YouTube channel.
---