Feld Entertainment Teams with University of Florida for Engineering Project
Feld Entertainment sponsored a project for five senior engineering students at the University of Florida. On Tuesday, the students presented the project at the campus's Integrated Product & Process Design (IPPD) Final Design Review 2023.
IPPD is an engineering program in which senior students from multidisciplinary teams are grouped together to help design and build projects for sponsor companies.
For the Feld Entertainment project, two computer science engineering students, a mechanical engineering student, an electrical engineering student, and an industrial and systems engineering student were teamed together as Team Monster Gator. Their goal was to make "a consumer video product for the Monster Jam ride truck that makes use of a multi-camera system to capture each rider's unique experience and quickly produce auto-edited souvenir videos for the riders through automated software."
Team Monster Gator's presentation was made at the UF Campus in Gainesville on Tuesday, with the Monster Jam ride truck making a special appearance in front of the Reitz Union building.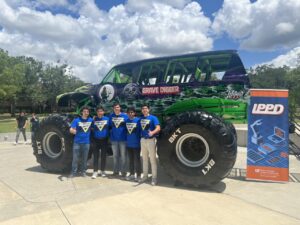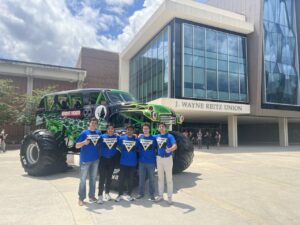 Integrated Product & Process Design program.
Click here to learn more about the 
---