Feld Motor Sports Announces New Partnership with MAVTV
2023 Schedule Includes 86 New Episodes of Monster Jam, Plus More Than 100 Hours of Classic Monster Jam Episodes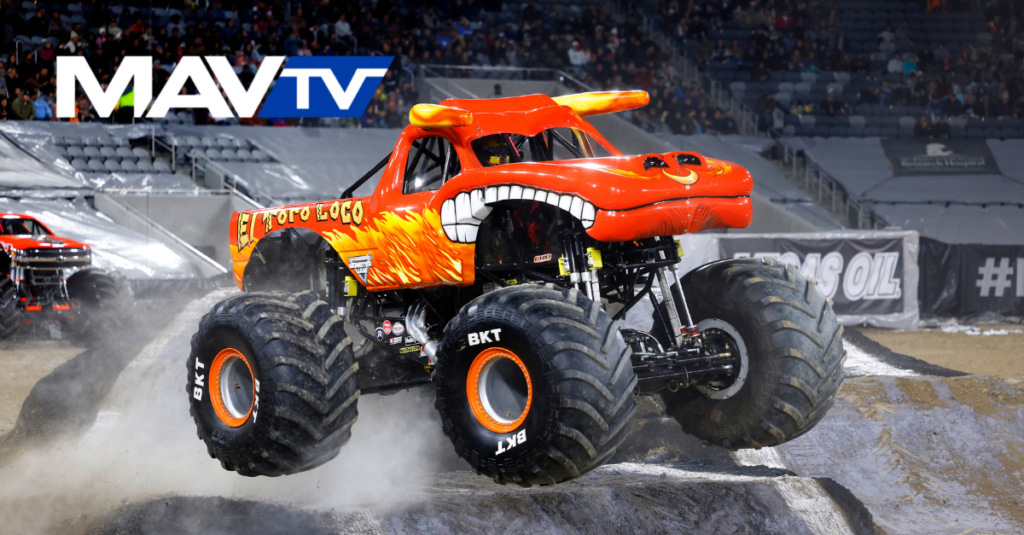 Feld Motor Sports and MAVTV, the only television network in the U.S. dedicated solely to motorsports, have announced a new multi-year deal with Monster Jam®, the most unexpected, unscripted and unforgettable motorsports experience for families and fans in the world today.  The 2023 Monster Jam telecast schedule features 86 new episodes of Monster Jam coverage: 26 1-hour stadium event episodes, 20 episodes of Arena in 30, and 40 episodes of Inside Monster Jam.  More than 100 hours of classic Monster Jam episodes will also be aired.
Premiering every Saturday at 8:00 p.m. ET, fans will get an inside look into a Monster Jam stadium event.  Adam Anderson and the legendary Grave Digger aim to dethrone reigning series champion and 14-time Monster Jam World Finals champion Tom Meents during Max-D™'s 20th anniversary.  Keeper-of-the-beast Colt Stephens roars into the race for the championship in ThunderROARus, an apex predator making its debut in 2023.  2022 Fan Favorite Driver of the Year Camden Murphy faces formidable foes in Bakugan Dragonoid™.   GUINNESS WORLD RECORD™ title holder Bryce Kenny in Great Clips Mohawk Warrior® and fan-favorite Cynthia Gauthier in Lucas Stabilizer seek their first series championship.
The 2023 broadcast team consists of veteran Monster Jam hosts Scott Jordan and Leslie Mears, Monster Jam driver Bari Musawwir, and newcomer Adam Enticknap.
In addition to stadium coverage, fans can tune in Saturdays at 9:00 p.m. ET for Inside Monster Jam, the official Monster Jam video podcast featuring exclusive inside access to Monster Jam drivers, track designs, the Monster Jam Garage, and more.  Episodes of Arena in 30, each featuring an event from one of the three arena championship series, air Sundays at 8:30 a.m. ET.
"Our partnership with MAVTV allows Feld Entertainment to air the largest amount of Monster Jam content in our broadcast history," said Stephen C. Yaros, Senior Vice President of Global Media and Supercross, Feld Entertainment.  "Monster Jam extends far beyond stadiums and arenas, with loyal, lifelong fans who crave bigger, faster and louder experiences.  We are thrilled to partner with MAVTV to bring live event Monster Jam action and analysis to our fans across their broadcast platforms."
"MAVTV and Feld Entertainment have a long and successful history of partnering on distribution of the rich Monster Jam library. We are thrilled with the expansion of that relationship, proud to become an official broadcast partner, and look forward to bringing our audience the action-packed coverage of current seasons," said CJ Olivares, Interim President of MAVTV. "Our mission is to connect, engage and entertain the community of motorsport fans around the world, and we believe Monster Jam is unique in its ability to provide diverse family entertainment in this sport."
The full TV schedule can be found at https://www.monsterjam.com/en-US/tv
---